Privacy Is Guaranteed Through Attorney-Client Privilege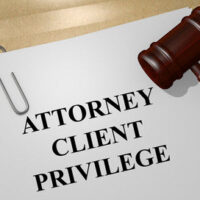 Attorney-client privilege allows you to have honest conversations with your lawyer following an Orlando crash. After all, your injury may be to an area of your body that you typically do not talk about publicly, or maybe you have a pre-existing medical condition that you are worried will be used against you. Instead of being embarrassed, know a licensed experienced lawyer will guarantee your privacy and fight for a full and fair compensation for your case.
Talking to an Orlando car accident lawyer as soon as possible after the accident and before speaking to any insurance company.  You should also immediately have your injuries assessed by a Florida doctor.  This is an important part of the damage recovery process. If you have questions about privacy, ask the lawyer how your information will be handled when the claim is filed. Trusting the attorney you work with is essential.
Attorney-Client Privilege Applies to Emails and Phone Conversations
Naturally, you will likely have communications with your attorney beyond in-person conversations. Other communications are subject to attorney-client privilege as well, including the following:
Text messages
Phone calls and conversations
Email communication
It is important to note that you will want to use your personal email address to protect your privacy. If you use a work email, the information included in that email could be accessed by the employer.
Also, consider where you are having conversations. Settings can be important as a person who overhears your phone conversation or in-person meetings has no obligation to keep the information they hear private.
But if you talk to your attorney about your intent to commit a crime, that will not be kept confidential. Criminal activities do not carry the same protections.
Essentially, the attorney-client privilege is in place  in order for you to protect your rights with confidence, sharing all of the specifics with your lawyer. Even if that information is awkward or embarrassing. The privilege is in place when working with a licensed attorney.  Keeping information from your attorney can work against you.  Do not keep your attorney in the dark because you feel embarrassed or think that nobody will ever find out.   You should also never discuss with anyone else what your attorney and you spoke about.  This could result in a waiver of the attorney-client privilege.  If you have questions about this privilege, ask your lawyer.
Select an Experienced Orlando Accident Attorney
Florida car accidents can lead to high medical fees and/or wage loss that are still in progress when the claim is finalized. To protect your financial future, you need a skilled Orlando car accident lawyer who will obtain a settlement amount that covers all of your expenses, past, present, and future.
When choosing an attorney, be sure to ask about their experience and success rate in cases similar to your own. Knowing what outcomes they have obtained in the past can give you an idea of what is possible for your situation.
Do you need legal representation following an Orlando collision? Personal injury could be part of your compensation, including compensation for medical bills, wage loss and other expenses. Contact the Orlando personal injury attorneys at Israoui Law to learn more. You deserve a fair settlement. Call 407-381-4529 today. Turn to Israoui Law for the personal attention you deserve.