Staying Safe After A Nighttime Accident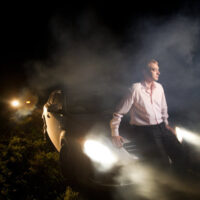 Car crashes can happen at any time, day or night. Accident risks could be heightened during the nighttime hours due to low light conditions and driver fatigue. Even when you have your headlights on and are paying attention, it may be difficult to judge distances or recognize collision risks until it is too late.
Nighttime accidents can be incredibly frightening because you may not be able to see what happened or assess if everyone is ok. Late-night accident injuries can lead to a lot of distress and expenses. To understand what options you have for damage recovery, share the specifics of your situation with an Orlando car accident lawyer.
Contact the Police and Let Someone Know Where You Are Located
When experiencing a stressful situation such as a car crash, it can be difficult to think clearly. You may not be able to follow all of the best practices after any crash, daytime or late-night, but doing what you can to protect yourself is important.
Things to do after a nighttime collision:
Report the crash to the police. If you are not in a well-lit area, be sure to give the police directions on how to find you and your vehicle.
Gather contact information. When able to, gather the contact information and names of the other individuals involved in the crash or any available witnesses.
Contact a family member or friend. Connect with someone you trust and let them know where you have been involved in a collision. Share your location with them and any concerns you have about the situation.
Document the accident scene. Taking pictures and videos of the vehicles involved, the accident scene and any visible injuries can help you later. Images of vehicular damage, injuries, and more could support your claim for a financial settlement.
Of course, you should have your injuries treated and your health assessed as soon as possible as well.  Do not ignore any pain you may experience at the scene of the accident.  This could be a warning sign that something more serious may be going on.
Reduce Glare and Give Other Vehicles Space
A couple of the things you can do to prevent late-night accidents include reducing glare and allowing other cars and trucks space to maneuver. Glare can be reduced when windows and windshields are well maintained and clean, for example.
But even when taking precautions, it is possible for accidents to happen. Car crashes can lead to property damage expenses, high doctor fees, and income lost because a person is unable to work while they heal.  Talk to an Orlando car accident lawyer before speaking to any insurance company or accepting any settlement offers.  An experienced lawyer has the skills you need to strengthen your claim, negotiate with insurance company representatives, or file any needed lawsuits.
Are you recovering from injuries you sustained in a nighttime car crash? You deserve to be compensated if another driver was negligent. To schedule a complimentary consultation, contact the Orlando personal injury attorneys at Israoui Law at 407-381-4529. Our experienced lawyers are familiar with all of the details associated with car accidents and how to secure compensation. At Israoui Law, personal attention matters.