Some Common Reasons For Pedestrian And Jogger Auto Accidents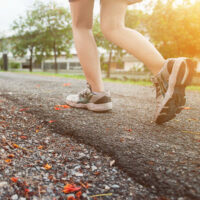 For many exercise enthusiasts, going for a run in the beautiful Orlando weather is a perfect way to get fit and see the sights. There are many parks and wilderness areas to enjoy. Some joggers prefer the Orlando Urban Train while others opt for the loops offered at Cady Way and Lake Baldwin.
But while some choose to run on off-road paths, many others prefer the convenience of neighborhood roadways. While it is convenient to simply walk out your door and go for a run, there are accident risks when joggers and cars share city streets.
If you are an Orlando runner who was hit by a car, you may be wondering how to handle your possible injury claim. An Orlando car accident lawyer has the experience to determine  the proper way to handle your case and can help you understand how another can be held accountable for accident injuries.
4 Common Reasons for Accidents Involving Cars and Runners
Just like accidents between two cars happen for a wide range of reasons there are different situations that can lead to an accident involving a person out for a  walk or run and another individual behind the wheel. That said, some of the common reasons these type of crashes occur include the following:
Driver, jogger, or both were distracted.
One or both individuals are fatigued.
There is low visibility.
Someone is under the influence of drugs or alcohol.
Because poor visibility can be incredibly dangerous, accidents can sometimes be avoided when joggers wear light colors and reflective clothing. Night running carries more risks, as the National Highway Traffic Safety Association (NHTSA) has reported more accidents occurring when it is dark out. An increase in accidents is an increase in the possibility of accident injuries.
Shared Negligence is Possible
Pedestrians, including runners, have the right of way in most situations. But this assumes they are following the road rules, such as obeying signs and signals and crossing streets in designated crosswalks. If a runner is in the road and jogging through a red light, it is possible they will assume some level of fault.
Florida is the state with the highest rate of pedestrian accidents. If you were involved in an accident involving a walker or runner, the details of your unique event will have to be assessed individually. Determining negligence is not always immediately clear. Talk to an experienced Orlando car accident lawyer to learn more.
Were you struck by a car when running in Florida? If you have medical or hospital bills, lost wages, or other expenses along with possible emotional distress, contact the Orlando personal injury attorneys at Israoui Law. You deserve a fair settlement.  Always talk to an auto accident attorney before speaking to any insurance company.  Call 407-381-4529 today. Turn to Israoui Law for the personal attention you deserve.