What If I'm Sore Weeks After A Crash?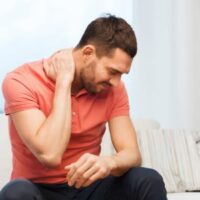 If you were involved in a Florida car, truck, or motorcycle crash and walked away without severe injuries, you may believe the possibility of a health issue associated with the collision is behind you. But in reality, there are many examples of individuals who find themselves sore and not feeling well days or weeks after the event.
Discuss your situation with an Orlando car accident lawyer if you are seeing the advice of a healthcare professional for a delayed onset injury. It is more common than many realize for ancient injuries to be slow to show. Soreness should not be ignored. Pain, stiff body parts can make it difficult for individuals to work and enjoy time with their family and friends. Compensation could help you handle medical bills, lost wages or other expenses that could arise when you seek treatment for your injuries.
You should also not delay in seeking medical attention from a healthcare professional.  Don't ignore pain or discomfort.  Under Florida's No-Fault law, you must seek medical attention within 14 days from the date of the accident or you could lose your rights to up to $10,000.00 in coverage for medical expenses and/or wage loss under your insurance policy.  Insurance companies also point to delays in seeking medical treatment to minimize the extent of your injury and try to pay as little as possible for your claim.
Reducing and Dulling Pain with Medication
When stiffness and soreness is bothering you, you may choose to take over-the-counter medications to reduce your symptoms. Sometimes a person needs to relieve bodily pain in order to take care of their to-do list. The problem is over-the-counter drugs can mask symptoms that need to be addressed. You need an experienced, professional healthcare provider to assess your health following a collision.
You could be suffering from a whiplash injury, which is a common type of bodily harm as a result of a car or truck accident. Back, neck, and shoulder pain could be indicators of whiplash. Muscle and tendon harm are not the only types of slow to show injuries, some even have fractures that they were not aware of. A proper treatment plan must be put in place in order for you to heal properly. Timely medical treatment is important for your recovery and for any potential claim for your accident.
Other Health Concerns Can Complicate Recovery
If a person is in good health when they are involved in a car crash, their healing time could be shorter than it would be for someone who had underlying conditions. Age and other factors can also impact recovery times. Of course it is always hoped that healing will be quick, but that is not always true. Some experience soreness and pain for months or years.
Many feel the best course of action is to see a doctor whether you think you were injured or not. If you decided to not see a healthcare professional and now find yourself suffering from soreness and pain, do not ignore signals from your body. See a doctor as soon as possible. The expense of your medical treatments could be eligible for compensation.  Connect with an Orlando car accident lawyer to learn more.
You may have a right to financial compensation if the accident was caused by another's negligence. Contact a member of the legal team at Israoui Law. Our experienced attorneys know how to secure just compensation for your loss.  Accidents happen every day. When they happen to you, it is essential you have a lawyer fighting for your rights. Reach out today, call 407-381-4529