Determining Fault After an Orlando Motorcycle Accident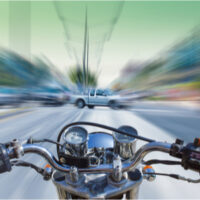 Motorcyclists are vulnerable to injuries when there is an accident because they do not have the protections a car driver has. After all, there is no chassis around a motorcyclist. Injuries can be severe and expenses can be high. Also, motorcycle accidents are not covered under Florida No-Fault system. This means medical bills and lost wages are not covered by your insurance policy and an insurance claim or lawsuit will have to pursued against the at-fault driver.
After a Florida motorcycle accident, talk to an Orlando motorcycle accident lawyer first beforfer speaking to any insurance company.  When you have an experienced legal professional on your side, you will know how to secure the compensation you deserve.
Finding Out Who Was At Fault
Through investigation, it can be determined who was at fault. Often, when an accident involves a motorcycle and another vehicle, the fault falls to the car or truck driver. A National Highway Traffic Safety Administration (NHTSA) study estimates the car or truck driver is the at-fault party in around 80 percent of these types of crashes.
Examples of why motorcycle accidents occur:
Drivers who do not follow traffic signs and signals
Left turns that are taken without looking around thoroughly, including blind spots
Use of alcohol or drugs by the car driver or the motorcyclist
Driving at unsafe and illegal speeds
Driving between lanes of traffic
When an individual and their lawyer moves toward establishing fault, documentation can be extremely helpful. For this reason, obtaining a police report after an incident occurs can be beneficial even though the police report itself is not legally admissible in a civil matter.  The police report will have key details about the at-fault driver, the event, when and where it happened, along with listing traffic citations, vehicle and insurance information, and accounts from witnesses, when applicable.
From Fractures to Brain Damage
There are a variety of injuries a victim can suffer when they are involved in a motorcycle accident, including the following:
Traumatic brain injuries
Back and spine injuries
Puncture wounds and cuts
Broken bones and bruises
Road rash
Internal injuries
Upper and lower extremity injuries
Recovery times can be long, medical bills can be large, wages can be lost, and pain and suffering damages may be a possibility. But even when negligence seems clear, long legal battles can follow.
Talk to an Orlando Lawyer About Your Accident Today
If you were hurt in a motorcycle accident, it is essential you talk over your situation with a knowledgeable and experience Orlando motorcycle accident lawyer. Contact the Orlando personal injury lawyers at Israoui Law at 407-381-4529 for a free consultation. We know how to win motorcycle accident cases. At Israoui Law, personal attention matters.
https://www.orlando-injury-lawyer.com/were-you-injured-in-a-tractor-trailer-accident/