Did a Driver's U-Turn Cause Your Orlando Car Accident?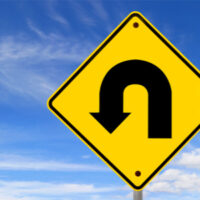 U-turns can be done safely and efficiently, but there are also times when drivers perform U-turns recklessly. After all, shifting direction and steering a vehicle 180 degrees in the opposite direction can be surprising to others on the road if they are not aware that a U-turn is going to be made.
There are times U-turns are illegal and times when they are legal. But either way, accidents could follow. After a Florida car accident due to a driver making extreme turns or driving erratically, you need an attorney on your side, fighting for your rights. After a collision, talk to an Orlando car accident lawyer about options for compensation.
There May Be Signs Prohibiting U-Turns
In Florida, U-turns are legal, unless there is signage posted that shows they are prohibited. Of course, the turn must interfere with another's right of way or other traffic rules. But even legal U-turns can cause confusion when they are done erratically and recklessly. Other drivers may be confused by a car suddenly moving in another direction, and confusion can cause collisions.
When streets are narrow, what starts as a U-turn could turn into a three-point turn if there is not enough room to execute a full U-turn. Three-point turns on narrow streets can completely block the roadway. And if the car is not noticeable to others, like an individual pulling out of a driveway, accidents can result.
Negligent Drivers, Determining Fault and U-Turn Accidents
Determining fault after a car accident depends on a variety of factors. There are many ways impact can occur and varying levels of injuries and property damage can result. For instance, when cars collide loose items in the car can fly about or deployed airbags can injure passengers. The car itself may be damaged through impact with another vehicle or a street pole.
Generally, if there is no sign prohibiting a U-turn, a driver is in the far left lane, and there is a green left turn arrow, a U-turn is permissible. But there may be other facts to consider. Damage, pictures, videos, and documentation following an accident can be assessed by an Orlando car accident lawyer to determine the best path to compensation. There can be high medical expenses involved, and a victim should not have to pay all of the fees if they were not at fault. An experienced lawyer knows how to secure the best financial compensation possible.
You should have your injuries looked over by a healthcare professional as soon as possible following the accident.  If you were injured when a driver made a U-turn or ignored traffic laws, speak with a personal injury attorney before speaking to any insurance company representative.
Were you in a collision that resulted in injuries? Was the crash with a U-turning driver? If you were a car accident victim, you need an attorney working for you. With legal help, compensation is possible. Contact the Orlando personal injury attorneys at Israoui Law at 407-381-4529. Turn to Israoui Law for the personal attention you deserve.
https://www.orlando-injury-lawyer.com/drivers-rubberneck-at-orlando-accident-sites/