Do Not Say These 3 Things After an Orlando Crash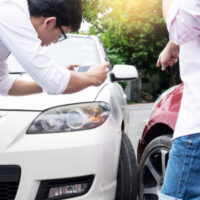 After an Orlando car accident, it is common for individuals involved to be upset and emotional. However, you should not overshare information at the accident site. Protect yourself and stick to the facts when you talk to other drivers and law enforcement officers who arrive to file a police report. Sharing too much information, or simply talking to try to make another person feel better through casual conversation, can undermine your chances of securing a fair compensation settlement later.
After an accident, it may be necessary to exchange information regarding your insurance and contact information. But you should not be concerned if another person finds you friendly and sociable. Instead, focus on facts and connect with an Orlando car accident lawyer to discuss your compensation options.
Do Not Say You Are Sorry at the Accident Site
Some apologize in stressful situations, not because they feel they did something wrong but simply because they want everyone to feel better. But apologizing at an accident site can be seen as an admission of fault. While you may feel bad another person's car was damaged, avoid the urge to say you are sorry.
It is natural to experience anxiety during and after a traumatic event. You may even blurt out that you are at fault because you simply want to make the situation better, smooth things out. But when you are driving safely, following laws, staying alert, and did nothing to cause the collision, there is no reason to apologize.
Declarations of Being Okay or Fine Are Not Needed
Announcing you are fine or okay after a car collision should be avoided. After all, there are many examples of injuries worsening over time or of symptoms not appearing until days or weeks after a car accident.
You may not be fine, and saying you are okay can be taken out of context and used against you later. For example, an insurance adjuster could bring up the fact that you said you were fine.  Insurance companies are looking for any reason not to pay or pay as little as possible for any potential claim you may have from your accident.  They like to claim that the doctor visit and treatment plan days later must have been the result of another event, even though it was truly a delayed onset injury from the Florida car crash. Discuss your injuries and treatment plans with an Orlando car accident lawyer to understand the strength of your personal injury claim.
Leave the Cause of the Florida Crash to the Experts
Best practice is to leave the analysis of the accident to experienced professionals. Discussing what caused the accident at the site can lead to false information being added to documentation and records. After an accident, take care of your injuries. Then speak to an experienced auto accident lawyer before speaking to any insurance company.
Were you part of a post-collision conversation that has you concerned? If you have medical bills and therapy fees along with emotional distress, connect with a legal professional for help with insurance company negotiations and lawsuits. Contact the Orlando car accident lawyers at Israoui Law at 407-381-4529. Turn to Israoui Law for the personal attention you deserve.
https://www.orlando-injury-lawyer.com/orlando-car-accidents-can-result-in-delayed-onset-injuries/