Side-Impact Collisions In Orlando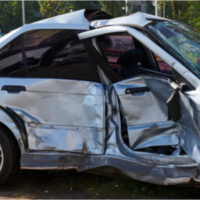 Sometimes called T-bone collisions or broadside crashes, side-impact accidents are when one vehicle is struck on its side, typically by the rear or front of another vehicle. The result can be crushed cars, rollovers, and extreme injuries. Some side-impact collisions even result in fatalities; they are incredibly dangerous crashes.
Car manufacturers have developed more safety features for vehicles over the years, including curtain airbags. Curtain airbags deploy from the top of car doors, providing a cushion between the occupant of the vehicle and the window. These can help when T-bone collisions occur, but side-impact crashes still result in significant injuries. If you sustained an injury in a side-impact crash, talk to an Orlando car accident lawyer to learn about what compensation options are possible.
Injuries from Broadside Collisions
Anytime there is vehicular impact, there can be extensive injuries. Particularly when accidents happen at high speeds. When a T-bone crash occurs, a person can find their life changed forever. Some of the injuries that could be sustained include the following.
Head trauma and brain injuries
Damage to neck and back
Facial cuts and scarring
Lacerations and burns
Internal organ damage
Broken bones and sprains
When people are coping with physical pain, long recovery times, and emotional distress, it can be difficult to know where to turn. Damage recovery can help an individual, even when they were a victim of a life-altering event.
For example, there could be extensive medical bills, income loss, travel needs, and out-of-pocket fees that are worrying a person who should be focused on healing. An Orlando car accident lawyer can help.
Things to Do After a T-Bone Crash
Because side-impact collisions can result in devastating injuries, it may not be possible to follow recommendations of what to do following a crash. Keep in mind these are guidelines to help strengthen your claim, but even if they did not occur compensation could still be a possibility.
Call the authorities or 911, explain what happened but do not apologize.
If there are witnesses, ask for their names and contact information.
Gather images and video of the accident scene and vehicles involved, even taking them with your phone is helpful.
Seek medical attention right away.
Talk to an experienced auto accident attorney.
It is advisable to connect with a lawyer first because insurance companies are not on their side.  They are looking for their best interests and not yours.  There job is get information or evidence they can use to minimize your loss and pay nothing or as little as possible for your claim.  Talking to attorney first allows you to know how to proceed and protect your rights and best interests.  The attorney will also make sure that you obtain just compensation for your loss.
Are you recovering after a broadside crash in Florida? If you have medical bills, lost wages, and hospital expenses along with emotional distress and pain and suffering, contact the Orlando personal injury attorneys at Israoui Law. You deserve a fair settlement, do not leave yourself at the mercy of insurance companies.. Call 407-381-4529 today. Turn to Israoui Law for the personal attention you deserve.
https://www.orlando-injury-lawyer.com/injuries-are-possible-in-low-impact-accidents/