Physical and Mental Distractions When Driving In Orlando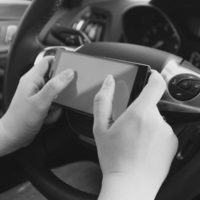 There are many forms of distracted driving, a phrase that refers to a driver engaging in activities that take their attention away from the task of driving. While cellphones are a distraction, they are not the only problem. It is common for drivers to experience a physical or mental distraction when operating a vehicle.  Distractions that compromise the driver's safety, along with presenting risk of harm to pedestrians walking down the street, passengers within the vehicle, and people in surrounding cars and trucks.
It is risky when a driver's attention shifts. Once in the driver's seat, the operator of a vehicle needs to stay alert and pay attention. If you have been in a Florida crash with a distracted driver, talk to an Orlando car accident lawyer. With a legal professional working for you, it is possible to secure damage recovery.
Examples of Mental and Physical Distractions
If a driver twists their body out of a safe driving position or takes their hands off the steering wheel, they are experiencing a physical distraction from the road. Mental distractions are activities that pull an individual's thoughts away. In both situations, the driver is not poised to avoid danger because they are either thinking of something else or physically not ready to react.
A handful of distraction examples follow:
Applying lipstick, eyeshadow, or other types of makeup.
Gesturing to others in the car.
Taking off a coat or changing clothes.
Focusing on audio books or podcasts.
Retrieving something from a purse, wallet, or from the floor of the car.
Turning to read an advertisement posted on the street or highway.
Handling and eating food.
Drinking hot coffee or other beverages.
Interacting with children in the backseat.
Looking at a crash that has happened instead of paying attention to the road.
Playing with music or climate controls.
Engaging in engrossing conversations with passengers.
Focusing on an emotional event in the past.
Using their cell phone or other mobile devices.
Multitasking Doesn't Work When Driving
Whenever a person does something regularly, particularly an activity that is done everyday, they begin to feel like they can do it without focusing on the task itself. This is true of driving as well. Because some adults have been driving for years, they assume they can safely engage with another activity while operating a vehicle. But multitasking isn't safe.
It is not safe to eat, change the music, and use a mobile device, all while the driver's attention needs to be on the road. Circumstances can change quickly. If another vehicle runs a red light or a bicyclist swerves abruptly, a driver will not be able to react when they are physically distracted, mentally distracted, or both.
Did a distracted driver collide with your car causing personal injury and vehicular damage? If you are a victim with medical expenses and/or lost wages, you need an attorney working for you. With legal help, compensation is possible. Contact the Orlando car accident lawyers at Israoui Law at 407-381-4529. Turn to Israoui Law for the personal attention you deserve.
https://www.orlando-injury-lawyer.com/i-was-in-an-orlando-accident-but-my-seatbelt-wasnt-buckled/