Take Photos or Videos After a Car Crash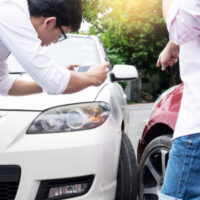 Memories fade and it can be difficult to rely on individual recollections when an event is emotional and traumatic, which is true of many car accidents. This is why photographs and videos are extremely important when moving forward with a personal injury claim.
With images, it may be possible to reconstruct how the car crash happened and who is liable. After a Florida car accident an Orlando car accident lawyer with experience in analyzing documentation can look over your case and assess the possibility of securing compensation for injuries, property damage, lost wages, and pain and suffering.
How to Capture Strong Images After a Car Crash
Thankfully, because smartphones have become so common, everyone typically has the ability to capture images with them at all times. This is a powerful tool for capturing evidence after a Florida car accident. When capturing images, keep the following tips in mind, when possible:
Take pictures of all the damage to all the cars involved in the accident.
Gather more images than you think you need, more is better than less.
Photograph traffic signals, guide rails, and blocked sight lines.
Collect a mix of views, including closeups and entire site views.
Be sure the digital device used for the images is documenting the time and date.
Physical injuries need to be photographed. Yours and the injuries of others, provided they give you permission.
Back up photos or save duplicates to be sure the images are safe.
Without Images, Large Settlements Are Still Possible
Images are important, but a victim is not legally obligated to gather photographic evidence. You have rights and they can be protected, even if images were not collected in the immediate aftermath of a Florida car crash.
See a doctor and let them know of all the injuries and pain you are experiencing. Too often, victims try to shrug off injuries as being small or not painful. Being honest with healthcare professionals gives them the information needed to treat injuries. This is true for both minor and major issues. Also, let your doctor know if past health issues have been exacerbated.  It is also very important that you seek medical treatment for your injuries as soon as possible after the accident.  Delays in receiving medical treatment could negatively impact your potential case and could prevent you from receiving some applicable insurance benefits.
An Orlando car accident lawyer can assess your situation and let you know what is needed to move toward the maximum settlement amount. An insurance company adjuster may approach you to sign off on a release or waiver of liability. Do not sign any documents before reviewing your situation with an attorney. You may be forfeiting your right to recover damages. Insurance company representatives work for the company, not for you.
Insurance companies may push for a quick payout. This is not always best for the victim. Sometimes treatments need to be completed before expenses can be totaled. Have a knowledgeable injury attorney on your side to protect your rights after an accident. You should speak to an experienced accident attorney before speaking to any insurance company representative.
Do you have images from a car accident and believe they strengthen your claim? If you were a car accident victim, you need an attorney working for you. With legal help, compensation is possible. Contact the Orlando personal injury attorneys at Israoui Law at 407-381-4529. Turn to Israoui Law for the personal attention you deserve.
https://www.orlando-injury-lawyer.com/what-to-do-after-an-orlando-car-accident-in-a-parking-lot/