Tire Failures In Orlando Lead to Car Accidents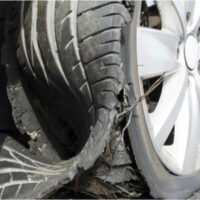 When a vehicle is in motion and a tire fails, there can be severe injuries. It is estimated that almost 11,000 accidents are due to tire failure every year. According to the National Highway Traffic Safety Administration, there were over 730 fatalities in 2017 because of tire-related crashes.
Individuals can be harmed when their own tire fails or when a car in front of them has a blown tire which fuels a multi-car accident. If you were injured in a Florida collision, talk to an Orlando car accident lawyer.
Pay Attention to Recall Notices
It is common for car owners to receive recall notices due to tire or other mechanical issues. When this happens, do not ignore the notice. See to the issue right away. When recalls happen, it is because the problem has already caused problems, including severe harm and fatalities.
The public relies on car manufacturers supplying safe products to consumers. And while companies do have safety guidelines in place, there are times when issues are not detected until the products have already been purchased. In these circumstances, recall notices are distributed.
One way to be sure you receive all recall notices is to be certain your car and tires are registered appropriately. Staying informed is a path to safety.
Establish a Car Maintenance Routine
There are also good habits individuals can develop to keep themselves safe. This includes looking over tires for signs of age and keeping tires properly inflated.
Signs of tire damage to look for include the following:
Cuts or cracking on side of tire
Tread wear that is not even
Weak spots that have bulged or blistered
Vibration while driving
Worn treads and bald tires
When individuals talk about a bald tire, they are referring to tires with minimal or no tread left. They have worn away their grooves. Many mechanics measure tire grooves to determine if treads are too worn. When the grooves are approximately 2/32 of an inch deep, they are bald. New tires will have 10/32 of an inch deep treads.
There can be spin outs when tires are bald, there is also the risk of punctures and tears. Add bad weather to the mix and worn tires are incredibly dangerous. Getting in the habit of looking over your tires regularly and asking your mechanic when new tires will be needed can help.
Best practice is to know how to check the pressure of your tires, put air in the tires when they are low, and know what to do when tires are flat. And if an accident does occur, connect with an Orlando car accident lawyer to protect your rights.
Did a blown tire cause you injury and vehicular damage? When victims have doctor or hospital bills, or have incurred lost wages, they need attorneys on their side. With legal help, maximum compensation amounts are possible. Contact the Orlando personal injury attorneys at Israoui Law at 407-381-4529. Turn to Israoui Law for the personal attention you deserve.
Resource:
nhtsa.gov/equipment/tires
https://www.orlando-injury-lawyer.com/determining-fault-after-an-orlando-motorcycle-accident/