Prescriptions Medications and Orlando Car Accidents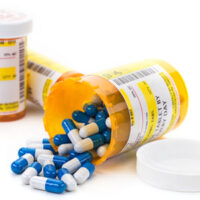 While there are many prescriptions that do not impact an individual's ability to safely drive, there are prescriptions and over the counter medications that carry dangerous side effects. It is important to know the impact of each and every medication you are taking and if any interactions are possible. According to the Food and Drug Administration (FDA) connecting with professionals, such as your doctor and pharmacist, to understand any drug effects is an important part of safe driving.
Possible prescription medication side effects include blurred vision, fatigue, loss of coordination, and dizziness. If you were hurt in a car accident with a drugged driver, connect with an Orlando car accident lawyer to understand your options for damage recovery.
Follow Treatment Plans and Discuss Changes with Doctors
Talking with your doctor about dosage requirements and what interactions are possible when starting to take prescription medication is an important step. There are times when a person decides to change their dosage amounts without talking to their doctor first. This can be dangerous for the individual's health, and if they then decide to get behind the wheel of a car, car accidents are possible.
If you notice any effects, take note. For example, if you start a new medication or have changed your dosage on the suggestion of your healthcare team and begin to feel nauseated and fatigued, do not drive until you have a clear understanding of the side effects being experienced. After all, safe driving relies on drivers being alert, coordinated, and able to clearly see all signage and traffic signals.
Side Effects Include Slower Reaction Times
Side effects vary. Some find codeine and morphine in pain relievers make them feel dizzy. Others who take antihistamines report fatigue or drowsiness and clouded judgement is possible from anti-anxiety drugs. Some of the possible side effects from prescription medications include the following.
Drowsiness
Blurred or impaired vision
Slowed movements
Nausea
Inability to focus
Erring on the side of caution is always advised. Drugged drivers can lead to car accidents, severe injuries and hospitalizations.
Communicate clearly with your healthcare team about any concerns you have. If you need to drive, let them know. Then, if there is another medication that would be a better fit for your situation, they can assess options. Also, if you drink alcohol regularly or ingest over the counter medications, be honest about those factors. Keeping that information from your doctor can lead to larger health issues. Lying to your doctor or combining medications without letting your healthcare team know is risky behavior that can lead to personal injury.
Did you sustain injuries in a Florida crash with a drugged or medicated driver? If you have medical bills, lost wages, and hospital expenses, along with emotional distress, contact the Orlando personal injury attorneys at Israoui Law. You deserve a fair settlement, do not quietly accept a reduced claim when you believe you are entitled to a higher settlement amount. Call 407-381-4529 today. Turn to Israoui Law for the personal attention you deserve.
https://www.orlando-injury-lawyer.com/physical-and-mental-distractions-when-driving-in-orlando/